Staff
Our Philosophy
Spero Pregnancy Center is St. Clair County's only medical pregnancy resource center, providing all of our services at no cost to our clients for the past 35 years. We believe women deserve to be loved and equipped with the information she needs to care for herself and her family during unexpected pregnancy.
Spero is a part of a national affiliation of more than 2,500 like-minded pregnancy centers across the United States. Currently Dr. Aaron Clark, a licensed physician, supervises the medical professionals who work and serve at the center. Spero follows all national medical guidelines issued by the American Institute of Ultrasound Medicine, American College of Radiology, and the American College of OB/GYN's.
Spero Pregnancy Center, and all that we do and are, have Jesus Christ as our foundation. Board, staff, and volunteers are all followers of Christ. We are a life-affirming ministry sharing the Gospel and providing women and men positive choices based on the truth found in the Bible. Our program restores dignity as clients provide for their own child throughout the process of becoming better equipped to parent and draw closer to Jesus. Clients are served regardless of their faith.
Spero, formerly Blue Water Pregnancy Care Center was established in 1986 as a non-political, not for profit, educational family service center by a group of concerned Christians. The center's caring staff and volunteers have been a force for life to 3 generations of men and women convinced that abortion was the only practical solution to their unplanned pregnancy. Since becoming a medical clinic in 2005, Spero has served more than 13,000 clients.
We are burdened by the abortion rate in our community. We desire to equip ALL who are experiencing unexpected pregnancy with the education and hope that they need to decide that they can live with regarding that pregnancy. We also know that hope and healing for all our wounds can be found in God and we exist to share those blessings.
Executive Director Jennifer MacDonald, BBS, LAS
Serving as Executive Director at Spero for the past 17 years, she has 25 years of leadership experience including a past position at the Delta & Menominee County Health Department, and the administrator of 2 assisted living facilities, including The Harrington Inn. She earned her Bachelor's of Science degree in Business Management and Human Resources at the Univ. of Wisconsin.
She trusted Jesus Christ as her Savior in 2002 and as a member of the Wesleyan Church since 2003, Jen served in the teen ministry for 5 years. She enjoys gardening, boating, reading. She is married to Keith and together they have 2 boys.
After starting out as a volunteer in 2004, Jennifer became the Executive Director of Blue Water Pregnancy Care Center (aka Spero Pregnancy Center) in May 2005. Immersing herself into pregnancy center ministry, she earned her LAS, Life Affirming Specialist certification. She has personally counseled over 300 clients. Jennifer lead Spero through a capital campaign for a new building in 2011 that resulted in the purchase and renovation of the building formerly known as Armbrusters.
She is a past president of Business Network International. She served on the boards of the Pregnancy Centers of Southeast Michigan, National Association of Career Women (NACW) and in 2016, she was awarded Career Woman of the Year from NACW.  Jennifer is active in the community, serving on a variety of boards and volunteering in other non-profits such as the Blue Water Area Humane Society.
Her desire is to encourage people to make wise decisions and avoid the heartache of bad choices. She's delighted to serve the Lord expressing God's truth, love, and mercy to hurting people. All for the glory of God.
---
Team and Board Members
Medical Team
Medical Director: Aaron Clark, MD
Director of Nursing and Ultrasound Technician: Leann Clink, BSN, RN
Office Team
Executive Assistant: Katie Crow
Client Services Coordinator: Sarah Keighley
Volunteer Coordinator: Sarah Keighley
Outreach Coordinator: Katie Crow
Office Manager: Melissa Lippert
Board of Directors (in the back, left to right)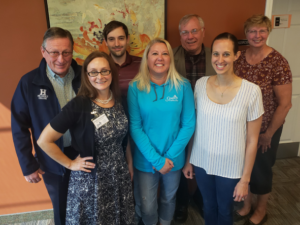 Michael Mills, Vice-Chair
Chip VanCamp, Member
Ed Neiman, Member
Karyn McCue, Treasurer/Secretary
Jennifer MacDonald, Executive Director
Michelle Hulett, Member
Mindy Charron, Chairperson
Mindy Charron, Board Chairperson
Mindy has been a board member since 2015 and board chairperson since 2017. She is married to Ryan Charron, Financial Advisor at Oppenheimer, and they are blessed by their 3-year-old daughter, Natalie. They attend Colonial Woods Missionary Church, where Mindy serves on the worship team and Women's Ministry Committee. Mindy is a Board Certified Music Therapist with Blue Water Hospice. She received her Bachelor's degree from Fredonia State University in New York and her Master's from St. Mary-of-the-Woods College in Indiana. Mindy enjoys fitness and cooking. Mindy loves Spero because they honor the Lord in all they do, especially to save the lives of the preborn.
Karyn McCue, Treasurer, Secretary
Karyn has been a board member for 25+ years. Married to Rod, they have three married daughters and 8 grandchildren.  A graduate of SC4, Karyn is a sixth generation farmer and Partner at Winn Heritage Farms, LLC. She is an active member, assistant treasurer and Children's Church teacher at Columbus Baptist Church. Karyn has served as a Memphis School Board member for 17 years.
Michelle Hulett, Board Member
Michelle is serving her 4th year on the board. Michelle was introduced to Jennifer and Spero by her husband, Aaron Hulett, a Senior Loan Officer at Michigan Mutual. One of their first dates was to the Pregnancy Center Banquet! Michelle and Aaron have been married 6 years and together they have 2 sons and 2 daughters. She is active in the community with a passion for helping girls, serving on Bloom. She also loves remodeling. They attend Light of Christ Church in Marysville.
Michael L. Mills, Board Vice Chair
Michael is a well-seasoned public relations, public policy and marketing management professional. Michael has experience in all mediums of communication, funding, finance and special event management on a national, state and local level. He founded SMILE (Selling Michigan in a Lean Economy) OF PORT HURON. Prior to that Mr. Mills culminated a 26-year career in intercollegiate athletics as Director of Marketing and Communications for the Cherry Bowl as Sports Marketing Group with his mentor, coach and partner Frank "Muddy" Waters. He has a Bachelor of Science degree in both Economics and Business Administration from Hillsdale College. He and his wife Marsha attend The River. He participates actively in social media his with website EnjoyUSAToday.com
Edward Neiman, AIA, Board Member
Ed has served as an elected member of a township board, planning commission, fire authority, and community committees in addition to his architectural and engineering practice. A licensed architect, he has designed "form following function" churches, city halls, fire stations, banks and 100 more types of building environments. Integrated design between man and his environment is an opportunity to create exciting places to live, work, and play. Mr. Neiman is married with four sons and nine grandchildren. Life is a gift.
Chip VanCamp, Board Member
Chip has volunteered at Operation Transformation, and currently at YFC as a "Core" coach. A business owner, he has served several non-profit organizations and their technology needs for 3 years. He works to keep his clients' tech working for them; not the other way around. Chip is the youngest child of 6 and proud to be a part of the family. board bio 2021